The Book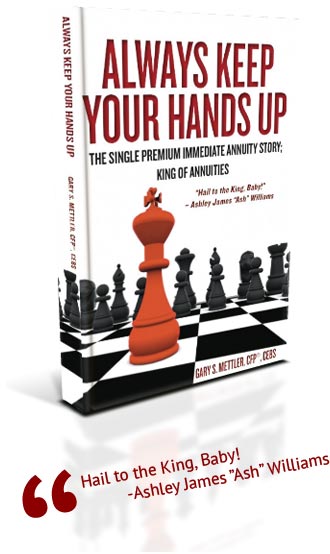 A great divide exists between financial advisors, pension economists and consumers when it comes to immediate annuities, primarily because there is a lack of understanding exactly what they are. It's only after purchasing one that the consumer falls in love with his or her contract. Gary S. Mettler, CFP©, CEBS, offers his book, Always Keep Your Hands Up, to bridge the gap between the professional advisor and consumer worlds.
Learn how immediate annuities help society as a whole by protecting the most vulnerable of its members from financial collapse due to life's obstacles, such as chronic illness, unemployment, natural disasters, divorce, business and financial market failures, or any other unpredicted tragedy. Though an immediate annuity won't make you rich, it will keep you from total financial loss.
Mettler keeps a laser focus on this one type of contract and covers all of its issues, including the history, contract forms, sales agents, brokerage practices and strategies, comparative analysis, marital property issues, and safety aspects. In many cases, he uses real-life examples and anecdotes to help you grasp the uniqueness and power of these simple arrangements. Start down your path to financially protecting yourself and loved ones through this misunderstood and unassuming financial product.
Immediate Annuities Pension & Marital Property | Divorce Oh NO! | Not all assets will split equally?
The Lost Language of Immediate Annuities
Is It Bad to Sell Annuities
Stretch IRA – Alive and Well
PlanStrongerTV™ Episode 103 Clip: Annuity Basics
Gary Mettler "Always Keep Your Hands Up"